Is it best to book a live swing band or is a dj just as good?
Why book a live swing band? I am asked from time to time. Ususally when budgets are tight. It is too easy to say that a live band is better than a dj. Obviously there is nothing better than dancing to a live swing band, but not everyone can afford a live group. However, if your budget does run to a live band and a dj, then I think you have the ideal mix.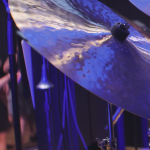 DJ's Good or bad?
As a musician myself I experience an antipathy to dj's in many situations where music is being booked by clients. Most musicians feel resentful that dj's have taken work away from them over a long period of years. However, what I have experienced in the world of swing music is totally different. I think that in an ideal situation the combination of the two is perfect. Dj's are great for running lessons with, Dj's are great for interval music when the band takes a break, Dj's are great at warming the crowd up before the band comes on. So why does a booker need a live swing band? And, if you only have a budget for a dj, do it. Recorded music is better than non!
Back to Live Swing Bands
Quite simply, there is nothing like live music, played by talented and experienced musicians. There is a totally different energy from a live group that you don't get from a dj. And we are not talking about how loud the music is here. We are talking about the authenticity of dancing to a live swing band, the energy, the vibe and live band brings. As an experienced bandleader myself I can attest to the number of dancers who come up and express their preference. Try it. If you can afford both, do it. If not and you can afford a live band do it! You will not be disappointed. And the band will always play a selection of swing tunes when they are not playing live themselves, through their pa system!
Jeff Williams runs Big Jeff and the Tulse Hill Play Boys and Mississippi Swing. Here is Mississippi Swing in action https://www.youtube.com/watch?v=FZ0Jh6FqNTE&ab_channel=JeffWilliams. Contact Jeff on 07747 801471