1. How to get your swing dancers on the floor
And so, here we go, how to get your swing dancers on the floor. Today I am contemplating the craft and skill in getting people up to dance. There are various methods of which some I find a tad histrionic! I shall discuss this below. But let it be known, this one of the first of the articles on Swing Dance, Swing Bands and Swing History. I hope you enjoy them and come back for more!
The holy trinity!
However, in the meantime, if the main purpose of your swing band is to get people up dancing then it falls back again, as I have mentioned before to three things: Tempo, Length of song and repertoire. Add to this the experience and ability at reading an audience. But I refer you to this page to discuss Tempo and such. In the meantime, lets get back to reading the audience.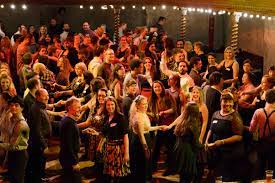 What do I mean by this? Well, years of experience in playing for dancers in a swing environment give one the ability to judge what type of song will work next and how to programme a set of music that keeps the majority of dancers on the floor.
Success or failure depends on this ability. Too many fast or too many slow swing numbers will begin to have an effect on the dancers. Variation is the key. I tend to play two medium tempo numbers for every quickstep/up tempo song. Each set I will throw in a Prima Shuffle (feel free to ask me what these are on 07747 801471) and a "Sing, Sing, Sing" style song. this usually features the drums and tends to be a floor filler!
Back to Histrionics! Well so lets just remind ourselves what we are here for. To get people up to dance right? Crazy outfits and stage routines are for performance bands. We must remind ourselves that we are a human jukebox. Dancers love the live experience of a live swing band to dance to, and they don't want it distracted by too much "look at us" They are there to dance. Don't let your ego get in the way!
I'm Jeff Williams. I've been running Swing Bands and playing for Swing Dancers for many years now. Here are a few links: Facebook https://www.facebook.com/profile.php?id=100088793697731
This is a link to my five piece band Mississippi Swing recorded live https://www.youtube.com/watch?v=FZ0Jh6FqNTE&ab_channel=JeffWilliams
And here is a link to my budget concious trio. The big sound from the small band! Big Jeff and the Tulse Hill Playboys https://www.youtube.com/watch?v=KxYWdBH80_c&ab_channel=JeffWilliams